Welcome to our new digital Remedy newsletter
Chat with our Remedy digital assistant
Hot off the press! We've launched an automated chat tool to help answer your 2015 Remedy frequently-asked questions (FAQs).
The tool works using Artificial Intelligence: to start it off we've "trained" it with answers to over 1,000 Remedy questions asked by members like you.
It won't be able to answer questions about your specific circumstances, but it will be able to support you with any generic Remedy queries you have, 24/7/365.
The tool learns as it goes – so the more you use it, the better it gets at providing accurate answers.
Try it out on the Remedy pages of our website.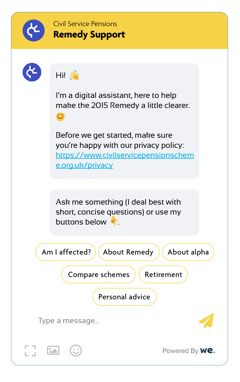 Are you signed up to Pension Awareness Week: 12-16 September?
Pension Awareness Week (PAW) is just around the corner. Throughout the week we'll be running virtual sessions on a whole host of topics, including Remedy!
Our 'Understanding the 2015 Remedy' session is taking place on Monday 12 September, 12-1pm.
It'll feature the Remedy Hot Topics of retirement and partial retirement, as well as a walkthrough of the Remedy timelines.
Find out more and sign up to this and other PAW events using the button below.
Your 2021-22 Annual Benefit Statement
If you're an active member, you'll receive your 2021-22 Annual Benefit Statement (ABS) by the end of August.
Your ABS is issued every year and shows an estimate of your pension benefits, up to 31 March of the current year. The estimate is based on information given to us by your employer.
If you moved to alpha on 1 April 2022, your 2021-22 ABS won't yet show your alpha benefits. You'll see these in your 2022-23 statement.
From 2023-24 ABSs will show what your pension benefits could look like under both your legacy scheme and the alpha scheme for your service during the Remedy period. This is to help you make your future choice when you retire, of the benefits you'd like to take in respect of the Remedy period.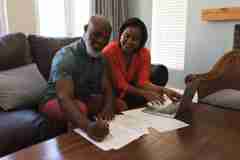 Previous Remedy newsletters
Your recent feedback
You've previously given us feedback that you'd like to be able to opt in to automatically receive Remedy updates. Good news – you can now do this using the simple form below. This means you'll get future newsletters automatically.
A key area of feedback is that it seems to be taking a long time to Remedy! Rest assured there is a great deal of work going on behind the scenes. However, no two members are the same and there are a lot of nuances and complexities to all the public sector pension schemes that are impacted.
We'll aim to keep you updated every step of the way.
Of course, we can't begin to implement the Remedy until the appropriate legislation is in place in October 2023. We're working backwards from this date to get everything ready to go.
Stay updated
There's lots going on in Civil Service pensions.
To stay updated with our newsletters, training events and upcoming campaigns, enter your email address. You can opt out at any time.
Help shape our future member support tools and communications
If you are a member of the Civil Service Pension Scheme who's affected by Remedy and would be interested in getting involved in helping to shape our future member support tools or communications whilst they're in development, please complete your details here.
By providing your details you are consenting to us contacting you and storing the information you submit through this form in line with our Privacy policy. You can opt out at any time.