Pension Portal
You can now calculate a pension projection estimate using a modeller, pre-populated with your pension details.
Retirement Modeller
Use the Retirement Modeller to run a projection estimate for your retirement.
Things to remember:
You will need your latest Annual Benefit  Statement to hand in order to use the modeller;
Look out for the 'i' icons throughout your modeller journey, these will provide you with help and information as to where specific information can be found within your Annual Benefit Statement;
The modeller can be used at home, at work or on the go. It is fully responsive and will work across desktop, mobile and tablet devices.  
Early Retirement estimator - classic, classic plus and premium
This estimator is designed to give you a rough indication of the benefits you might receive if you elect to retire before your Normal Pension Age. It asks you for:
the date to which you want your pension calculated
which scheme you're in
the reckonable service you'll have earned up to the date you're thinking of retiring
your current pensionable earnings.
Using this information the estimator can work out how much your reduced pension might be if it were taken before your normal pension age. For classic members it will also show you the lump sum that might be available, but please note that this estimator does not take account of any restrictions that may apply. Refer to the notes attached to the Early Retirement estimator for further details of these restrictions.
Added pension calculators
If you want to take control of your retirement planning by building up more pension for your retirement, then added pension could be for you.
The Added pension for classic, classic plus, premium and nuvos leaflet, and section 2B of the alpha scheme guide tell you about how added pension works, and the calculators below can help you work out how much you want to contribute.
Please make sure that you use the estimator for your pension scheme. This ensures you will get an accurate estimate of the cost of buying added pension.
Buying added pension estimators for:
You'll need to complete the Added Pension application form - which can be found on our Member Forms website page.
Visit our Annual Allowance page for more information on how added pension could impact your Annual Allowance.
EPA estimator
alpha offers a new way to take control of your retirement planning, called EPA.
In alpha your Normal Pension Age (NPA) is the same as your State Pension age (SPA). If you choose to take your alpha pension before your NPA it would be reduced, as it may be paid to you for longer. By paying extra contributions you can take the EPA portion of your pension earlier than your NPA without any early payment reduction.
Please note:
You can backdate your EPA option to your alpha start date but you must have joined the scheme in the last three months.
You must pay all backdated contributions linked to the EPA portion of your pension. You will be advised about how the backdated contributions will be collected as part of the application process.
This EPA estimator tool lets you estimate how much your EPA contributions would be.
To apply for EPA you'll need to complete the EPA option application form, which can be found on our member forms page.
Partial retirement calculator
Partial retirement allows you, with the agreement of your employer, to draw some or all of your pension and remain in work. Your employer has to consider the needs of the business first so you will not have an automatic right to partial retirement. You must also be prepared to have your job reshaped to reduce your earnings by at least 20%. To find out more, see the booklet Partial retirement – a guide for scheme members, which can be found on our Member Publications website page in the Leaving before retirement age section.
You need to be aware that your pension could be reduced if you take partial retirement. The leaflet in the Other issues section of our Member Publications website page called What is abatement?  will give you more information about this.
When you access the Partial retirement calculator it may open on the results tab. Please click on the "Enter your details here" tab in the bottom left hand corner of the document. You'll then need to click on the results tab after you enter your personal details.
Lump sum calculators - classic, classic plus, premium, nuvos and alpha
If you're thinking about retiring or have already decided to retire, the lump sum calculator for classic, classic plus, premium, nuvos and alpha will work out what amount of pension you can take in the form of a tax-free lump sum.
There's plenty of supporting information to help you to understand the process and tell you about your retirement benefits – use these links to take you to the scheme guide relevant to you:
Actuarially Reduced Pension Buy-out calculator
If you claim your pension early, before scheme pension age, your pension and lump sum (where appropriate) is actuarially reduced to pay for this early payment.
You have the option to buy out this reduction and take full pension benefits. The cost of the buy-out for all schemes can be determined by using the Actuarially Reduced Pension buy-out calculator.
The calculator will ask you for your pension details which you can get from your latest Annual Benefit Statement.
What are the system or software requirements to use these tools?
Tools are required to be run on Windows versions of MS Excel 2007 (V14) and above.
Although the tools originate from the internet, they are uploaded and hosted by the Civil Service Pensions websites and should be considered 'safe'.
The tools use Macros (VBA) for clearing cells and creating PDFs if required, therefore macros should be enabled to ensure full functionality.
How do I open the tools?
When a tool is first opened click the 'Enable Editing' button.

If the password prompt opens, click 'Read Only' to continue.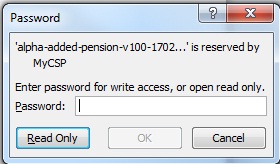 To ensure full functionality you must Enable Macros.

GDPR
The Scheme is committed to managing your personal information in line with the Data Protection Legislation. More information can be found in our Privacy Policy.